Kaggle案例二——Guns Deaths——Python分析
数据集的理解:
Our data has almost 101,000 rows (gun death incidents) and 10 columns (categories).
Here's an explanation of each column:
this is an identifier column, which contains the row number. It's common in CSV files to include a unique identifier for each row, but we can ignore it in this analysis.
year: the year in which the fatality occurred.
month: the month in which the fatality occurred.
intent: the intent of the perpetrator of the crime. This can be Suicide, Accidental, NA, Homicide, or Undetermined.
police: whether a police officer was involved with the shooting. Either 0 (false) or 1 (true).
sex: the gender of the victim. Either M or F.
age: the age of the victim.
race: the race of the victim. Either Asian/Pacific Islander, Native American/Native Alaskan, Black, Hispanic, or White.
hispanic: a code indicating the Hispanic origin of the victim.
place: where the shooting occurred. Has several categories, which you're encouraged to explore on your own.
education: educational status of the victim. Can be one of the following:
1: Less than High School
2: Graduated from High School or equivalent
3: Some College
4: At least graduated from College
5: Not available
It's good practice to get to know our data set before begining to analyze.
导入数据,清洗并熟悉数据
1




2




3




4




5




6




7




8




9




10




11




import

 pandas 

as

 pd


import

 numpy 

as

 np



'''




1. Importing, cleaning and getting familiar with the data




'''




guns = pd.read_csv('guns.csv', index_col = 0)
print(guns.shape)
print(guns.head())


1
2
3
4
5
6



guns.index.name = 'Index'
# for readability and concistency - capitalizing column names
guns.columns = map(str.capitalize, guns.columns)
print(guns.head())



1
2
3
4
5
6
7
8
9
10
11
12



# 总体观察数据
print(guns.info())  # 总体信息
print(guns.dtypes)  # 变量类型
# print(guns.describe)  # 数值型变量的一些分=分位数等信息

# 缺失值的处理[这里开始竟然忘了。。。]
print(guns.notnull().sum())

# In order to see the percentage of valid data:
print(guns.notnull().sum() * 100.0/guns.shape[0])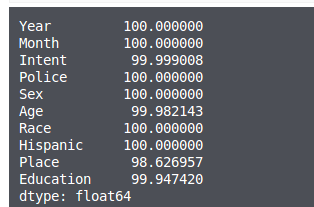 1
2
3
4
5



# Organizing the data by a column value: first by the year, then by month:
guns.sort_values(['Year', 'Month'], inplace=True)
print(guns.head(10))



探索并分析数据
1
2
3
4
5
6
7
8



'''
2. Exploring and analyzing the data [这里我们关注的时Intent]
'''
print(guns.Intent.value_counts(ascending=False))
# Looking at the normalized values makes the picture clearer.
# Note: 'normalize=False' excludes the 'NaN's where here it includes them
print(guns.Intent.value_counts(ascending=False, dropna=False, normalize=True))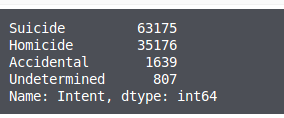 1
2
3
4
5
6
7
8



# 数值型变量的[分位数]描述
cols = ['Education', 'Age']
for col in cols:
    print(col, ':')
    print(guns[col][guns[col].notnull()].describe())
    print('-'*20 + '\n')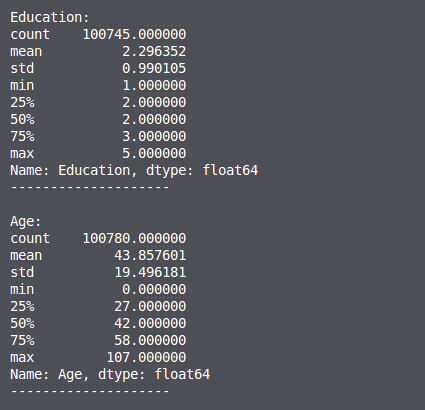 1
2
3
4
5
6


# 更多分位数的数据
percentiles = np.arange(0.1, 1.1, 0.1)
for col in cols:
    print(col, ':')
    print(guns[col][guns[col].notnull()].describe(percentiles=percentiles))
    print('-'*20, '\n')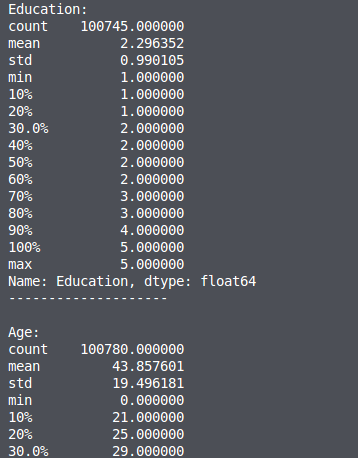 1
2
3
4
5
6
7
8
9
10
11
12
13
14



# Education
# Age < 16 数据[关于教育]的处理
print(guns[guns['Age'] < 16].shape)
print(guns[guns['Age'] < 16].head())

index_temp = guns[(guns['Age'] < 16) & ((guns['Education'].isnull()) | (guns['Education'] == 5.0))].index
guns.loc[index_temp, 'Education'] = 1.0
print(guns[guns.Education.isnull()].shape)

index_temp = guns[guns.Age < 5].index
guns.loc[index_temp, 'Education'] = 0.0
print(guns['Education'][guns.Education.notnull()].describe())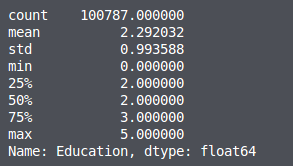 1
2
3
4
5
6
7
8



# Let's get rid of rows that has '5.0' (Not available) and NaN in the 'education' column:
# subset = can include a list of column names
guns.dropna(inplace=True)
guns = guns[guns.Education != 5.0]

print(guns.Education.value_counts())



1
2
3
4
5



for col in guns.columns:
    if col not in ['Age', '']:
        print(guns[col].unique())



1
2
3
4
5
6
7
8
9
10
11
12
13
14



# 一些实用的处理技巧
# Year Month
# evaluating the percentage change between years
n2012 = guns[2012 == guns['Year']].shape[0]
(guns.Year.value_counts(sort=False) - n2012) * 100./ n2012    


nexpected_month = guns.shape[0]/12.
(guns.Month.value_counts(sort=True) - nexpected_month) * 100./nexpected_month        

guns.sort_values(['Year', 'Month'], inplace=True)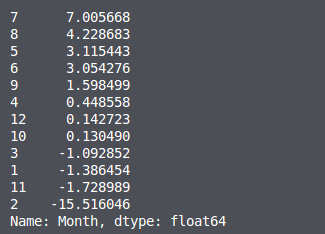 1
2
3
4
5
6
7
8
9
10
11
12
13
14
15
16
17
18
19
20
21
22
23
24
25
26
27
28
29
30
31
32
33
34
35
36
37
38
39
40
41
42
43
44
45
46
47
48
49
50
51


# 上面简单通过月份看死亡率不太严谨,接下来考虑闰年和特殊月份天数问题
import datetime
# The purpose of *10000 and the *100 are to convert 2012, 01, 01 into 20120101 for readability
guns['Date'] = pd.to_datetime((guns.Year * 10000 + guns.Month * 100 + 1).apply(str),format='%Y%m%d')
guns.dtypes.tail(1)
# 删除无用的变量,简化数据集[这里Date的引入与在Titanic上对于family的处理是一样的]
del guns['Year']
del guns['Month']

import calendar
monthly_rates = pd.DataFrame(guns.groupby('Date').size(), columns=['Count'])
monthly_rates.index.to_datetime
print(monthly_rates.index.dtype)
print(monthly_rates.shape)
monthly_rates.head()

# 计算新列 Days_per_month
days_per_month = []
for val in monthly_rates.index:
    days_per_month.append(calendar.monthrange(val.year, val.month)[1])
monthly_rates['Days_per_month'] = days_per_month
monthly_rates.head()

# 'Averahe_per_day' 代表各年各月份,平均每天死于gun的人数
monthly_rates['Average_per_day'] = monthly_rates['Count']*1./monthly_rates['Days_per_month']
print(monthly_rates.shape)
monthly_rates.tail()

# 求三年的平均值
month_rate_dict = {}
for i in range(1,13):
    bool_temp = monthly_rates.index.month == i
    month_average = (sum(monthly_rates.loc[bool_temp, 'Average_per_day']))/3.
    month_rate_dict[i] = month_average

avg_month_rate = pd.DataFrame.from_dict(list(month_rate_dict.items()))
avg_month_rate.columns = ['Month', 'Value']


# calculating the expected cases for each day [+1. becuase 2012 was a leap year]
nexpected_day = guns.shape[0]/(365*3 + 1.)

avg_month_rate['Percent_change'] = (avg_month_rate.Value - nexpected_day) * 100./ nexpected_day
print(avg_month_rate.sort('Percent_change'))

# Police
# 删除无用列[数据无有效的信息]
print(100 * guns.Police.value_counts(normalize=True))
del guns['Police']
print(guns.shape)
print(guns.head())


1
2
3
4
5
6
7
8
9
10
11
12
13
14
15
16
17
18
19
20
21
22
23
24
25
26
27
28
29
30
31
32
33
34
35
36
37
38
39


# Race
print(guns.Race.value_counts(sort=True, normalize=True))
# Question: Which race appears the most in the df and which appears the least?
'''
这里的细节值得注意,我们不能因为看到White的case比如较多就认为死于gun的人当中White就最多,
正如答案所言,在不知道总体人种比例时,我们不能妄下论断
'''
# Answer: We can not conclude anything by those numbers unless we take in account the distribution of races in the US population.


# 一些技巧
# About Sample
# a sample of about 10% of the data may look like this:
sample_guns = guns.sample(n=10000)
sample_guns.head()

# How do you define a categorical columns/pd.Series? 
# E.g please order guns['intent'] by this order: 'Homicide','Suicide','Accidental','Undetermined'

list_ordered = ['Homicide','Suicide','Accidental','Undetermined']
guns['Intent'] = guns['Intent'].astype('category')
guns.Intent.cat.set_categories(list_ordered, inplace=True)
guns.sort_values(['Intent']).head()

# 这里Undeterminded对预测Intent无太大作用,删除
guns = guns[guns.Intent != 'Undetermined']
guns.Intent.value_counts()

# removing last value in list ordered - which is 'Undetermined'
list_ordered = list_ordered[:-1]
guns.Intent.cat.set_categories(list_ordered, inplace=True)
guns.Intent.value_counts()

# **Question:** Given a Series which contains strings, how do you find the length of each of the strings?
guns.Race.str.len().unique()

# **Question:** For the same series, how do you know if any given entry contains a string segment. E.g: Which entries int the 'intent' column contain the segment 'cide'?
guns.Intent.str.contains('cide').sum()


数据可视化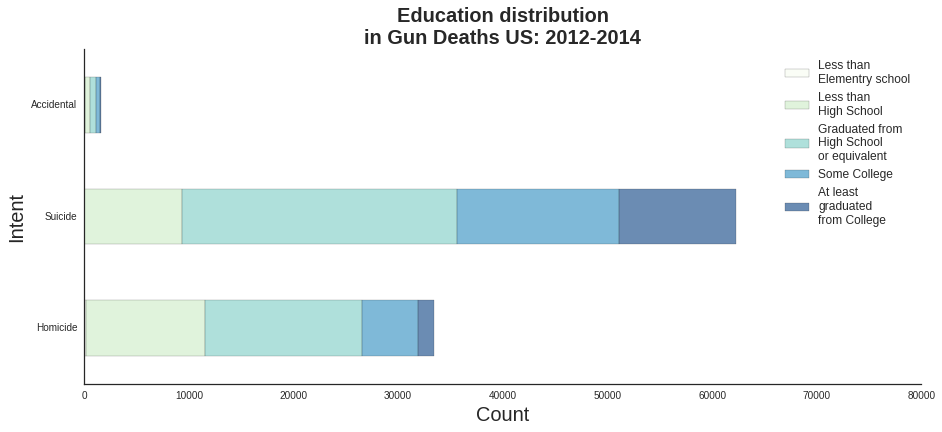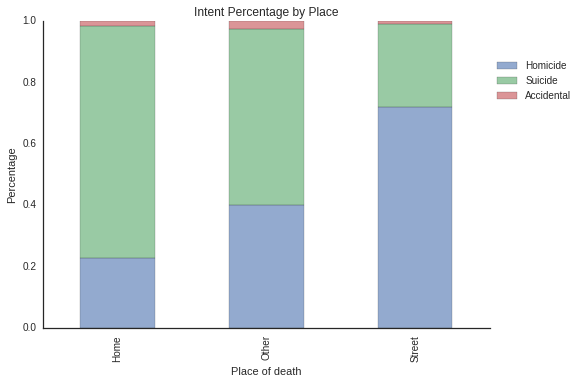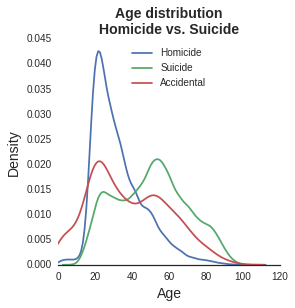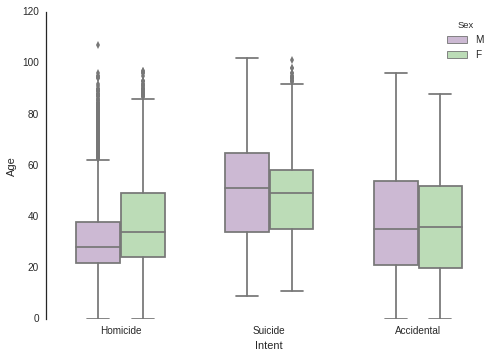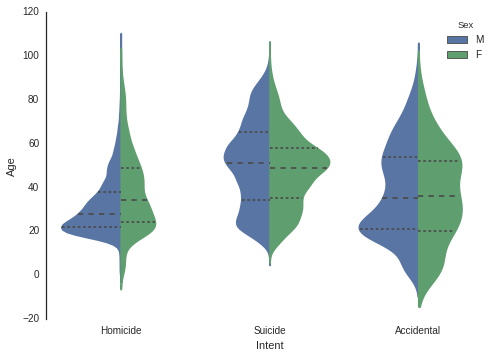 1
2
3
4
5
6
7
8
9
10
11
12
13
14
15
16
17
18
19
20
21
22
23
24
25
26
27
28
29
30
31
32
33
34
35
36
37
38
39
40
41
42
43
44
45
46
47
48
49
50
51
52
53
54
55
56
57
58
59
60
61
62
63
64
65
66
67
68
69
70
71
72
73
74
75
76
77
78
79
80
81
82
83
84
85
86
87
88
89
90
91
92
93
94
95
96
97
98
99
100
101
102
103
104
105
106
107
108
109
110
111
112
113
114
115
116
117
118
119
120
121
122
123
124
125
126
127
128
129
130
131
132
133
134
135
136
137
138
139
140
141
142
143
144
145
146
147
148
149
150
151
152
153
154
155
156
157
158
159
160
161
162
163
164
165
166
167
168
169
170
171
172
173
174
175
176
177
178
179
180
181
182
183
184
185
186
187
188
189
190
191
192
193
194
195
196
197
198
199
200
201
202
203
204
205
206
207
208
209
210
211
212
213
214
215
216
217
218
219
220
221
222
223
224
225
226
227
228
229
230
231
232
233
234
235
236
237
238
239
240
241
242
243
244
245
246
247
248
249
250
251
252
253
254
255
256
257
258
259
260
261
262
263
264
265
266
267
268
269
270
271
272
273
274
275
276
277
278
279
280
281
282
283
284
285
286
287
288
289
290
291
292
293
294
295
296
297
298
299
300
301
302
303
304
305
306
307
308
309
310
311
312
313
314
315
316
317
318
319
320
321
322
323
324
325
326
327
328
329
330
331
332
333
334
335
336
337
338
339
340
341
342
343
344
345
346
347
348
349
350
351
352
353
354
355
356
357
358
359
360
361
362
363
364
365
366
367
368
369
370
371
372
373
374
375
376
377
378
379
380
381
382
383
384
385
386
387
388


'''
3. Visualizing the data 
'''
# Line Charts / Time analysis
import matplotlib.pyplot as plt
import seaborn as sns
sns.set(style='white', color_codes=True)

# 2012
plt.plot(monthly_rates.index[:12], monthly_rates['Count'][:12], 
         linestyle='--', linewidth=3., alpha=0.6)
plt.xticks(rotation=70)
plt.tick_params(axis='both', which='both',length=0)
plt.show()


# notice the y column in the previous plot begins at 2200; 

# Let's look at the real picture from 0 

plt.plot(monthly_rates.index[:12], monthly_rates['Count'][:12],

        linestyle='--', linewidth=3., alpha=0.6)

plt.xticks(rotation=70)

plt.ylim(ymin=0, ymax=3500)

plt.tick_params(axis='both', which='both',length=0)

plt.xlabel('Month', fontsize=14)

plt.ylabel('Gun Deaths\ncount', fontsize=14)

plt.title('Monthly Gun Death Count in the US, 2012', fontsize=14, fontweight='bold')

sns.despine()

plt.show()




# years 2012 - 2014

# Changing linestyle to a constant line = seeing intersections more clearly

fig = plt.figure()

plt.plot(monthly_rates.index.month[0:12], monthly_rates['Count'][0:12], label='2012',

        linestyle='-', linewidth=2., alpha=0.8)

plt.plot(monthly_rates.index.month[12:24], monthly_rates['Count'][12:24], label='2013',

        linestyle='-', linewidth=2., alpha=0.8, color='r')

plt.plot(monthly_rates.index.month[24:36], monthly_rates['Count'][24:36], label='2014',

        linestyle='-', linewidth=2., alpha=0.8, color='g')

plt.xlim(xmin=1, xmax=12)

plt.ylim(ymax=max(monthly_rates['Count'])+100)

plt.tick_params(axis='both', which='both',length=0)

plt.xticks(np.arange(1, 13, 1))

plt.legend(loc='upper left', frameon=False)

plt.xlabel('Month', fontsize=14)

plt.ylabel('Gun Death\nCount', fontsize=14)

plt.title('Monthly Gun Death Count in the US: 2012-2014', fontsize=14, fontweight='bold')

sns.despine()

plt.show()



# From zero
fig = plt.figure(figsize=(10,6))

colors = ['b', 'r', 'g']
labels = ['2012', '2013', '2014']

for i in range(len(labels)):
    start_index = i*12
    end_index = (i+1)*12
    subset = monthly_rates[start_index:end_index]
    plt.plot(subset.index.month, subset['Count'], color=colors[i], label=labels[i],
            linestyle='-', linewidth=2., alpha=0.6)

plt.xlim(xmin=1, xmax=12)
plt.ylim(ymin=0, ymax=max(monthly_rates['Count'])+100)
plt.tick_params(axis='both', which='both',length=0)
plt.xticks(np.arange(1, 13, 1))
plt.legend(loc='center right', frameon=False)
plt.xlabel('Month', fontsize=14)
plt.ylabel('Number of Gun Death Count', fontsize=14)
plt.title('Monthly Gun Death Count in the US: 2012-2014', fontsize=14, fontweight='bold')
sns.despine()
plt.show()


# Bar plot
intent_sex = guns.groupby(['Intent', 'Sex'])['Intent'].count().unstack('Sex')
ax = intent_sex.plot(kind='bar', stacked=True, alpha=0.7)
ax.set_xlabel('Intent', fontsize=14)
ax.set_ylabel('Count', fontsize=14)
plt.xticks(rotation=0)
plt.tick_params(axis='both', which='both',length=0)
ax.legend(labels=['Female', 'Male'], frameon=False, loc=0)
plt.title('Gender distribution\nGun Deaths US: 2012-2014', fontsize=14, fontweight='bold')
sns.despine()
plt.show()


# 一个不太好的图
intent_edu = guns.groupby(['Intent', 'Education'])['Intent'].count().unstack('Education')
# creating a range of 5 colors - from light to dark
edu_legend_labels = ['Less than\nElementry school','Less than \nHigh School', 'Graduated from\nHigh School\nor equivalent', 
                 'Some College', 'At least\ngraduated\nfrom College']
colors = plt.cm.GnBu(np.linspace(0, 1, 5))
ax = intent_edu.plot(kind='bar', stacked=True, color=colors, width=0.5, alpha=0.6)
plt.xticks(rotation=0)
ax.set_xlabel('Intent', fontsize=14)
ax.set_ylabel('Count', fontsize=14)
plt.tick_params(axis='both', which='both',length=0)
ax.legend(edu_legend_labels, ncol=1, frameon=False, prop={'size':10}, loc=0)
plt.ylim(ymin=0, ymax=90000)
plt.title('Education distribution\n in Gun Deaths US: 2012-2014', fontsize=14, fontweight='bold')
sns.despine()
plt.show()

# 上图略显拥挤,我们用下面的水平图的进行改进
intent_edu = guns.groupby(['Intent', 'Education'])['Intent'].count().unstack('Education')
ax = intent_edu.plot(kind='barh', figsize=(15,6), stacked=True, color=colors, alpha=0.6)
ax.set_xlabel('Count', fontsize=20)
ax.set_ylabel('Intent', fontsize=20)
ax.legend(edu_legend_labels, loc=0,  prop={'size':12}, frameon=False)
plt.xlim(xmin=0, xmax=80000)
plt.tick_params(axis='both', which='both',length=0)
plt.title('Education distribution\nin Gun Deaths US: 2012-2014', fontsize=20, fontweight='bold')
sns.despine()
plt.show()



# the percentage visual is more informative
education = pd.crosstab(guns.Education, guns.Intent)
education.div(education.sum(1).astype(float), axis=0).plot(kind='bar', stacked=True, alpha=0.6)
plt.title('Intent Percentage by Education')
plt.xlabel('Education level')
plt.ylabel('Percentage')
plt.legend(loc='upper center', bbox_to_anchor=(1.1,0.9))
sns.despine()


# Place
intent_place = guns.groupby(['Intent', 'Place'])['Intent'].count().unstack('Place')

colors = plt.cm.GnBu(np.linspace(0, 2, 20))

ax = intent_place.plot(kind='barh', stacked=True, color=colors, alpha=0.8)

ax.set_xlabel('Count', fontsize=14)

ax.set_ylabel('Intent', fontsize=14)

plt.tick_params(axis='both', which='both', length=0)

ax.legend(loc=0, ncol=2, prop={'size':10}, frameon=False)

plt.title('Location distribution\nin Gun Deaths US: 2012-2014', fontsize=14, fontweight='bold')

sns.despine()

plt.show()


# 归类的思想
#These are too many categories and it's hard to arrive to conclusions
# let's merge 'street' with 'trade/service area' and the rest to 'Other'
index_temp = guns[(guns['Place'] == 'Trade/service area') | (guns.Place == 'Industrial/construction')].index
guns.loc[index_temp, 'Place'] = 'Street'
index_temp = guns[(guns['Place'] != 'Street') & (guns.Place != 'Home')].index
guns.loc[index_temp, 'Place'] = 'Other'

guns.Place.value_counts()

# Let's take another look:
intent_place = guns.groupby(['Intent', 'Place'])['Intent'].count().unstack('Place')
colors = plt.cm.GnBu(np.linspace(0,2,6))
ax = intent_place.plot(kind='barh', stacked=True, color=colors, alpha=0.6)
ax.set_xlabel('Count', fontsize=14)
ax.set_ylabel('Intent', fontsize=14)
plt.tick_params(axis='both', which='both',length=0)
ax.legend(loc='upper right', prop={'size':10}, frameon=False)
plt.title('Location distribution\nin Gun Deaths US: 2012-2014', fontsize=14, fontweight='bold')
sns.despine()
plt.show()


# the percentage visual is more informative
place_died = pd.crosstab(guns.Place, guns.Intent)
place_died.div(place_died.sum(1).astype(float), axis=0).plot(kind='bar', stacked=True, alpha=0.6)
plt.title('Intent Percentage by Place')
plt.xlabel('Place of death')
plt.ylabel('Percentage')
plt.legend(loc='upper center', bbox_to_anchor=(1.1,0.9))
sns.despine()

# barplot of gender grouped by intent 
pd.crosstab(guns.Sex, guns.Intent).plot(kind='bar', alpha=0.6)
plt.title('Gender Distribution by Intent')
plt.xlabel('Gender')
plt.ylabel('Frequency')
plt.legend(loc=0)
sns.despine()


# barplot of education grouped by intent 
pd.crosstab(guns.Education, guns.Intent).plot(kind='bar', alpha=0.6)
plt.title('Education Distribution by Intent')
plt.xlabel('Education')
plt.ylabel('Frequency')
sns.despine()


# Histograms

age_freq = guns.Age.value_counts()
sorted_age_freq = age_freq.sort_index()
sorted_age_freq.head()
plt.hist(guns['Age'], range=(0,107), alpha=0.4)
plt.tick_params(axis='both', which='both',length=0)
plt.xlim(xmin=0, xmax=110)
plt.xlabel('Age', fontsize=14)
plt.ylabel('Count', fontsize=14)
plt.title('Age distribution', fontsize=14, fontweight='bold')
sns.despine(bottom=True, left=True)
plt.show()


# Sex and Intent
fig = plt.figure(figsize=(12,4))
ax1 = fig.add_subplot(1,2,1)
ax2 = fig.add_subplot(1,2,2)

suicide = guns[guns['Intent'] == 'Suicide']
homicide = guns[guns['Intent'] == 'Homicide']

ax1.hist(suicide.Age, 20, alpha=0.4)
ax1.set_title('Suicide gun deaths\nAge Distribution', fontsize=14, fontweight='bold')
ax2.hist(homicide.Age, 20, alpha=0.4)
ax2.set_title('Homicide gun deaths\nAge Distribution', fontsize=14, fontweight='bold')
ax1.set_xlabel('Age', fontsize=14)
ax2.set_xlabel('Age', fontsize=14)
ax1.set_ylabel('Frequency', fontsize=14)
ax2.set_ylabel('Frequency', fontsize=14)
ax1.tick_params(axis='both', which='both',length=0)
ax2.tick_params(axis='both', which='both',length=0)
ax1.set_xlim(xmin=0, xmax=110)
ax2.set_xlim(xmin=0, xmax=110)
sns.despine(bottom=True, left=True)
plt.show()


# Cross
g = sns.FacetGrid(suicide, col='Sex')  
g.map(sns.distplot, 'Age')
plt.subplots_adjust(top=0.8)
g.set(xlim=(0, 110), ylim=(0, 0.05))
g.fig.suptitle('Suicide ages: Gender comparison', fontsize=14, fontweight='bold')
g = sns.FacetGrid(homicide, col='Sex') 
g.map(sns.distplot, 'Age')
plt.subplots_adjust(top=0.8)
g.set(xlim=(0, 110), ylim=(0, 0.05), xlabel='Age', ylabel='Percentage', )
g.fig.suptitle('Homicide ages: Gender comparison', fontsize=14, fontweight='bold')


# Race and age
g = sns.FacetGrid(suicide, col='Race')  
g.map(sns.distplot, 'Age')
g.set(xlim=(0, None))
plt.subplots_adjust(top=0.8)
g.set(xlim=(0, 110), ylim=(0, 0.06), xlabel='Age')
g.fig.suptitle('Suicide ages: Race comparison', fontsize=14, fontweight='bold')
g = sns.FacetGrid(homicide, col='Race') 
g.map(sns.distplot, 'Age')
g.set(xlim=(0, None))
plt.subplots_adjust(top=0.8)
g.set(xlim=(0, 110), ylim=(0, 0.06), xlabel='Age')
g.fig.suptitle('Homicide ages: Race comparison', fontsize=14, fontweight='bold')


# in order to get in in the same order for better comparison:
race_ordered = ['Black', 'White', 'Hispanic', 'Asian/Pacific Islander', 'Native American/Native Alaskan']
guns['Race'] = guns['Race'].astype('category')
guns.Race.cat.set_categories(race_ordered, inplace=True)

suicide = guns[guns['Intent'] == 'Suicide']
homicide = guns[guns['Intent'] == 'Homicide']

g = sns.FacetGrid(suicide, col='Race')  
g.map(sns.distplot, 'Age')
plt.subplots_adjust(top=0.8)
g.set(xlim=(0, 110), ylim=(0, 0.06), xlabel='Age')
g.fig.suptitle('Suicide ages: Race comparison', fontsize=16, fontweight='bold')
g = sns.FacetGrid(homicide, col='Race') 
g.map(sns.distplot, 'Age')
plt.subplots_adjust(top=0.8)
g.set(xlim=(0, 110), ylim=(0, 0.06), xlabel='Age')
g.fig.suptitle('Homicide ages: Race comparison', fontsize=16, fontweight='bold')


# we can ignore education = 0 - since these are all very young ages
g = sns.FacetGrid(suicide[suicide.Education > 0], col='Education')
g.map(sns.distplot, 'Age')
plt.subplots_adjust(top=0.8)
g.set(xlim=(0, 110), ylim=(0, 0.06), xlabel='Age')
g.fig.suptitle('Suicide ages: Education comparison', fontsize=16, fontweight='bold')
g = sns.FacetGrid(homicide[homicide.Education > 0], col='Education') 
g.map(sns.distplot, 'Age')
plt.subplots_adjust(top=0.8)
g.set(xlim=(0, 110), ylim=(0, 0.06), xlabel='Age')
g.fig.suptitle('Homicide ages: Education comparison', fontsize=16, fontweight='bold')



# KDE-PLOT

# limit the x-axis
# Intent-Age
sns.FacetGrid(guns, hue='Intent', size=4).map(sns.kdeplot, 'Age')
plt.legend(loc=9, frameon=False)
plt.xlim(xmin=0)
plt.xlabel('Age', fontsize=14)
plt.ylabel('Density', fontsize=14)
sns.despine(left=True)
plt.title('Age distribution\nHomicide vs. Suicide', fontsize=14, fontweight='bold')

# Sex-Age
sns.FacetGrid(guns, hue='Sex', size=4).map(sns.kdeplot, 'Age').add_legend()
sns.despine(left=True)
plt.xlim(xmin=0)
plt.title('Age distribution\nMale vs. Female', fontsize=14, fontweight='bold')


# Intent:Sex-Age
sns.FacetGrid(suicide, hue='Sex', size=4).map(sns.kdeplot, 'Age').add_legend()
plt.xlabel('Age', fontsize=14)
sns.despine(left=True)
plt.title('Suicide ages: Gender comparison', fontsize=14, fontweight='bold')
sns.FacetGrid(homicide, hue='Sex', size=4).map(sns.kdeplot, 'Age').add_legend()
plt.xlabel('Age', fontsize=14)
sns.despine(left=True)
plt.xlim(xmin=0)
plt.title('Homicide ages: Gender comparison', fontsize=14, fontweight='bold')



# Box plot
fig, ax = plt.subplots()
data_to_plot = [suicide.Age, homicide.Age]
plt.xlim(xmin=0, xmax=110)
plt.boxplot(data_to_plot)
plt.ylim(ymin=-1, ymax=110)
plt.xticks([1, 2, 3], ['Suicide', 'Homicide'], fontsize=14)
plt.tick_params(axis='both', which='both',length=0)
plt.ylabel('Age', fontsize=14)
plt.title('Ages in Suicide vs. Homicide',
          fontsize=14, fontweight='bold')
sns.despine(bottom=True)
plt.show()

#sns.set(style='ticks')
sns.boxplot(x='Intent', y='Age', hue='Sex', data=guns, palette='PRGn', width=0.6)
sns.despine(bottom=True)


# Violin-plot
sns.violinplot(x='Intent', y='Age', hue='Sex', split=True, data=guns, size=4, inner='quart')
sns.despine(bottom=True)